The new standard of versatility
DICKEY-john IntelliAg® ISO6™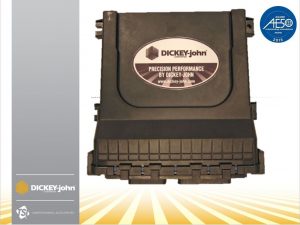 IntelliCIg® by DICKEY-john, a state-of-the-art product, offers control of planting, application of granular fertilizer, seeders or air carriages.
Designed according to the ISO 11783 guideline, this CAN-based unit features a monitor and the choice of two control modules: planter / planter control and air cart control, which can operate on any equipment.
The air cart and the air cart control modules offer four control channels, which can receive input from hopper level sensors, shaft GPM sensors, ground speed sensors, tool switches and seed sensors.
And you can expand your monitoring by adding accessory modules of 18 rows.
A solution to avoid having multiple screens inside the tractor cab.
Prepare for the future and take the advantage of the benefits of IntelliAg™
---
---
The components that can be controlled

PWM valves (hydraulic motor)
Solenoid valves (secondary module)
Liquid control servovalve (Main module)
Electric motors
What you can use as a feedback

Application rate
Application speed rate sensor
Liquid Pressure Sensor
Flow sensor
Speed sensors
RVS II
RVS III
GPS speed sensor
Hall Effect Sensor
Position
---